EVERYTHING CHANGED IN AN INSTANT.
I thought I knew what was important, but one phone call sent my life into a tailspin.
Alone and afraid, I cling to the one man I shouldn't.
I was warned about him and told to stay away. "He's dangerous," they said.
But the man who could hurt me the most, gave me the greatest comfort.
"He's not who they think," I told myself.
But just like an illusion, things are never what they seem.
REVIEW
5 Stars
::ARC Gifted In Return For Honest Review::
Oh Lord I have no idea where to start on this one. When we first meet Bruno he had spent the best night of his life only to be crushed the next morning. He doesn't know why she is ignoring him or how to fix it.
Then we meet Callie who is a fun loving hard working girl. She depends on no one and she's just fine with that. With one phone call her life changes. Gone is the happy fun loving person and in her place is someone she doesn't even recognize. When her best friend gets worried she does the only thing she can do and that's to get Bruno. A man with more secrets than are safe. A man who exudes danger.
With Callie though the danger fades into tenderness and love. When he realizes why she never talked to him after their night together he is stunned. Callie is stubborn though and tries to push him away. He won't let her.
Chelle has once again written a story that absolutely had me bawling my eyes and relating to everything Callie was going through. I'm not going to spoil anything for you but I must say READ this book. You will go on an emotional journey that will keep you happy, sad and downright depressed. One of the things I love about Chelle Bliss is she writes real. Not trite love stories that are perfect but real life and real love. Well as close as you can get for a fiction book.
So sit back and relax. Have you wine, chocolate, and Kleenex handy. You will need them. Trust me on this you will be missing out one a truly wonderful book if you don't give this sexy standalone a try.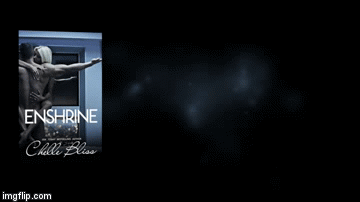 Available at the following retailers
ENSHRINE GIVEAWAY - OPEN INTERNATIONALLY
ABOUT THE AUTHOR
USA Today Bestselling author, Chelle Bliss, currently lives in a small town near the Gulf of Mexico in Florida. She's a full-time writer, time-waster extraordinaire, social media addict, and coffee fiend. She's written over ten books and has two series available. She loves spending her free time with her boyfriend, 2 cats, and her hamster.
Before becoming a writer, Chelle taught high school history for over ten years. She holds a master's degree in Instructional Technology and a bachelor's in history. Although history is her first love, writing has become her dream job and she can't imagine doing anything else.
ALSO BY CHELLE BLISS